Agent
Move2marche di Giovanni Vitali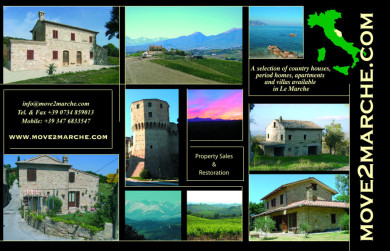 Move2marche di Giovanni Vitali
Via Angeli 523
Sant'Elpidio A Mare - Fermo
347 6833547
Giovanni Vitali, born and brought up in the Marche, is a qualified, registered real estate agent and financial consultant. In 2005 he founded Move2Marche in answer to the increasing demand from foreign buyers and investors looking not only for the right property, but also the right service. Since then, he has accompanied hundreds of satisfied clients from across the world through the property search and buying process, helping them realize their dreams of creating a permanent home, a holiday house or setting up a B&B or agriturismo business here in the amazing Marche region.
We offer a complete service for your property purchase, which includes customized property searches and accompanied viewings, submission and negotiation of offers, preparation of the preliminary contract in Italian and English, checks of the documents and certificates necessary for the purchase, assistance at the final deed before a Notary. On request, translation of the deed of sale and other documents, as well as the presence of an interpreter at the signing with the Notary, can be provided for a fee.
Our support and advice also continue after the purchase have been completed, with assistance regarding utilities, local council tax, application for residency, recommendations for suppliers, builders and other trades.
Properties for sale by Move2marche di Giovanni Vitali
:
1
Search results for: Move2marche di Giovanni Vitali