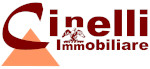 CINELLI IMMOBILIARE
Via Regina, 15
Arpino - Frosinone
+39 339 1146152
The real estate agency CINELLI IMMOBILIARE operates in Ciociaria, in the heart of Lazio. Ciociaria is a beautiful region filled with art, history, nature, food, wine, friendly people and a genuine Italian lifestyle.
We are passionate about helping our clients to find the right location for their Italian dream home as well as the optimal property for their taste and budget in order to create a true Italian lifestyle. We support our clients all the way from finding the right property, to finalising the purchase and also providing full service for renovations and all other practical aspects of buying a house in Italy. We aim to be a reliable partner for our clients and to support them in every part of the house hunting process as well as to provide reliable information and accurate cost estimates for buying or renovating a home in Italy.
Our work is aimed at identifying unique buildings with outstanding locations in the beautiful Ciociaria region, covering apartments, historic houses, villas, palazzos and farmhouses. Some of our properties are already renovated while others are to be restored. We also provide reliable and full service renovations according to the appropriate use of original materials, such as stone, wood and wrought iron, making use of the experience of over 40 years in the sector of "restoration of the restoration" through our partner company Cinelli Claudio Restauations and of our technical office, headed by Ing. Valentina Cinelli. For a complete and correct analysis of the property and detailed research to make the most of the individual property in terms of design, architecture and materials with the highest possible attention to details. We pride ourselves in taking full responsibility of the renovation process and to deliver outstanding results beyond expectations and on time as well as budget.
Properties for sale by CINELLI IMMOBILIARE
:
24
Search results for: CINELLI IMMOBILIARE