Agent
REMAX ASSOCIATI REAL ESTATE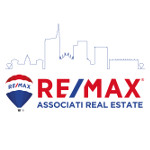 REMAX ASSOCIATI REAL ESTATE

Milano - MI
Who we are
Remax Associati Real Estate is the result of a collaboration between brokers Elia Musumeci - Remax Gioia - and Marco Mosca - Remax Progetti. After having worked together over the years (we have been working in the sector for over 25 years!) We decided to combine our important and consolidated real estate realities, giving life to a new and stimulating project.
Every day our Real Estate Mediation Center works to make the difference in a very standardized sector, to create long-lasting relationships and allow our clients to have trusted consultants to rely on.
Collaboration is an integral part of our philosophy, because "a team is always more successful than a single".
The objective of working honestly and professionally is achieved thanks to the high competence of our real estate agents who, through the "Remax University" training course, specialize in different sectors: rentals and sales of residential, commercial and industrial properties, villas in Milan and throughout Italy.
OUR SERVICES
1. Free evaluation
2. Market analysis
3. Contractual Assistance
4. Legal, tax and financial advice
5. Direct consulting of technicians and architects
6. Complete assistance up to the notarial deed and also after
7. CasaCard
The card allows all our customers to get not only free advice, but also discounts on products or services of affiliated companies or professionals.
Your search returned no results
34604 properties were excluded from search results
You can adjust the filters to get more results:
REMAX ASSOCIATI REAL ESTATE
or try to expand the search area