Via Guarnacci, 10 - 56048 - Volterra - Pisa
Phone (incl. international code): +39 0588 85578
Mobile +39 347 6969412
Fax: +39 0588 85578


The Company
The Real Estate agency and Technical Office ' Milianti ' have dealt with sales and the restoration of typical Tuscan farmhouses and luxurious villas since 1973. Our portfolio of properties cover all regions of Tuscany extending up to the Tirrenica Coast.

This family-run business was established by Luigi Milianti , whose experience and expertise together with the help of his son Antonio and daughter Serena, both responsible for sales, make it one of the front runners in the industry.
Specialising in foreign clients, we offer and guarantee our buyers a full service, assisting them through the entire process and after the acquisition of their dream-home.

Milianti's real estate division adheres to strict codes of ethics offering absolute piece of mind to all its clients.
Over the years we have acquired important technical and bureaucratic knowledge , enabling us to offer a first class service to all our clients. Through our website "studio tecnico geom. Milianti Luigi" one can view our extensive portfolio of properties for sale or to be renovated.
We regularly participate in property exhibitions in Russian, Holland, Belgium, United Kingdom and Spain, establishing important contacts within the business community, foreign investors and real estate companies.
Agency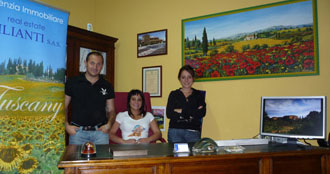 Our Team - Real estate agency Milianti s.a.s.
Alice Salvadori (translator )
Serena Milianti ( sales' director )
Antonio Milianti ( sales' director )
Technical Studio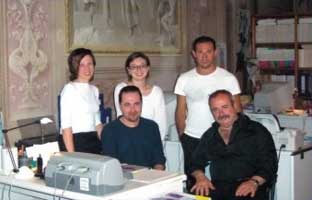 Our team - Technical Studio Milianti Luigi
Milianti Luigi ( surveyor - work's director )
Barbara Antoni ( designer )
Poli Antonella ( advisor and designer )
Andrea Mancini ( internal designer )
Our Services
Milianti s.a.s. is always on the lookout for the special property.
Views, historical value and most location are always high on the checklist thus guaranteeing the best properties to our clientele.
We offer sellers
Professional advice with regard to the valuation of your property
Identifying the best local and overseas markets in which to target the sale
Feasibility of the project together with cost efficient project management by our technical office
We select the clients we feel most appropriate and start negotiations with them
Information regarding market trends.
Translations
Assistance in all aspects of drawing up contracts and tackling all bureaucracy.
We offer buyers:
Supply of detailed and accurate information together with feasibility of the selected properties as per clients instructions
Feasibility of the project together with cost efficient project management by our technical office.
Serious and ethical negotiations in getting the best deal for our clients.
Selection of suitable legal advisors and notary for the drawing up and completion of promise of sale and contract avoiding unnecessary bureaucracy.
Long or short terms rentals and leasing
Translations.
he friendship established during the process enables us to offer an after sale service ensuring that your home abroad experience is one worth remembering.