Via F. Carrara, 22 - 55100 - Lucca - Lucca
Phone (incl. international code): 0039 0583 954707
Mobile +39 348 2601239
Fax: 0039 0583 955211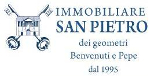 Immobiliare San Pietro was founded in 1995 by two surveyors, Nicola Benvenuti and Luca Pepe.
In the wide panorama of the real estate sector, the agency stands out for the technical knowledge of the managers that can offer their experience in every phase of the buying and selling or consulting to avoid or solve the possible problems.
A continuous market research and update on the new laws permits us to offer an efficent service that satisfies any estate need and makes us the perfect partner for the buyer or seller.
Our loyal customers have requested our help in the negotiations and we have always been instrumental for the success.
Our agency has an online connection with the Revenue Agency and the Land Registry to check documents about the properties.
Discretion and expertise are the values that we have always pursued.
Services:
Selling of single units
Selling of farmhouses
Selling of Prestigious properties
Selling of whole buildings and large properties
Selling of companies, offices, commercial, industrial properties.
Commercial, residential, industrial rentals
Contractual assistance – Information on the property
Property valuation
Feasibility studies
Property managment.