UK - 269 Farnborough Road Farnborough, Hants GU14 7LX / Italy - Viter - 01100 - Viterbo - VT
Mobile +44 7791 033601 UK +39 338 6407078 Italy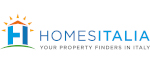 HomesItalia is a UK-based company with staff in Italy and the UK working to make sure you get the best advice and support so that you can make the purchase that is right for you.
We are not just an estate agent but also a property finder and, as such, if you don't see your dream property on our site we will be happy to find it for you - just let us know what you are looking for.
The HomesItalia team includes lawyers, surveyors and other professionals who can support you throughout your purchase, along with English staff who live in Italy and who have had experience in purchasing property in the country. We also have a circle of skilled local tradesmen and craftsmen, whose expertise could be invaluable once you have bought your new home.
Our mission is to assist you in every way possible so that you can find that perfect property. Once found, or if you have already have found it, we will then guide you through the purchasing process, which in Italy can become complicated if not tackled in the correct way from the beginning. Once the property is yours we will assist you in finding the right people to help renovate it, if necessary, and manage it for you.