Via della Repubblica, 386 - 40038 - Vergato - Bologna
Phone (incl. international code): +39 0543 742389
Mobile +39 329 8118455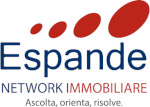 Professionals at the service of buying and selling real estate, which with passion and professionalism propose properties of all types, aiming at satisfying the client's needs, be it buyer or seller, following him at every stage, from the idea of selling or buying the property to delivery of the keys to the deed.
We have been doing this for 16 years ... ... ... walking on a dream !!
Expands Real Estate Network solves and facilitates all the bureaucratic procedures, advising and assisting the client from the identification of the right property, to the financial investment advice, through the constant updating of the legislative changes on the subject, up to the actual sale in the notary. The direct interconnection to professional offices allows the provision of a high level service always customized according to the needs of each customer.