Via Garibaldi, 187 - 44121 - Ferrara - FE
Phone (incl. international code): +39 0532 205620
Mobile +39 328 0875875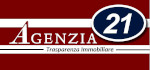 Agenzia 21 is a family owned and operated company established over 20 years ago, specializing in property sales, leasing and property investments in the cities of Ferrara, Bologna and their provinces.
Thanks to our well-established experience we can offer a personalized and customized service.
Whether you are renovating or simply refurbishing your property, we can offer a complete consultancy in collaboration with specialized technical offices, construction companies and architects.
Our team of qualified notaries, lawyers, accountants and credit brokers will assist you throughout the bureaucratic process of buying or selling, from the purchase proposal to the notarial deed, clarifying all your doubts so you can deal with confidence and security.
Transparency, confidentiality and reliability are our mission, to guarantee the confidence of those who buy or sell a house with us.
We are affiliated with F.I.M.A.A. (Italian Federation of Business Brokers), further sign of professionalism and guarantee.