With the referendum about Brexit fast approaching on June 23, 2016 many questions arise about what will happen next if Britain votes to leave EU.
What if you own a property in Italy or you are thinking to move to the peninsula?
By virtue of the excellent relationship between Italy and England, here at Gate-Away.com we think that repercussions should be quite contained, in particular for the real estate sector.
In fact the British market is the first in Europe for the interexchange of made in Italy products and the second in the world after the USA. And it's not a momentary datum but a trend that has been confirmed for many years whereby the total volume of import/export between the two countries is in constant growth.
A similar trend also emerges from the analysis of the tendency of the two housing markets and from how they interact with each other. Bearing in mind that after the English, Italians are the greatest buyers of properties in London because the British real estate market has always been considered as an excellent investment by international buyers. At the same time, the English have always been amongst the most interested in buying a second home in the peninsula according to our data that analyses the requests received for homes for sale in Italy through the portal: in 2014 and 2015 the United Kingdom has been the country from which the largest number of requests has arrived.
But the influence of a possible Brexit and the doubt on what will happen afterwards seems to be felt. In fact, the pound is also getting weaker over the euro, compared to its peak in July 2015 (0.6971). And all this generates a climate of uncertainty that is also reflected on the trends of the English.
That's why in the first 5 months of 2016 we have registered a more contained growth in requests by the English (+27.2%) compared to the worldwide average growth in enquiries received by our portal (55.4%) and also to that of other countries like the USA (+45%) and Germany that has doubled the number of requests compared to the same period last year: by virtue of these data, at the moment the Germans (in 1st place) and Americans (2nd) have overtaken the English (3rd) in the list of countries from which we are receiving most requests.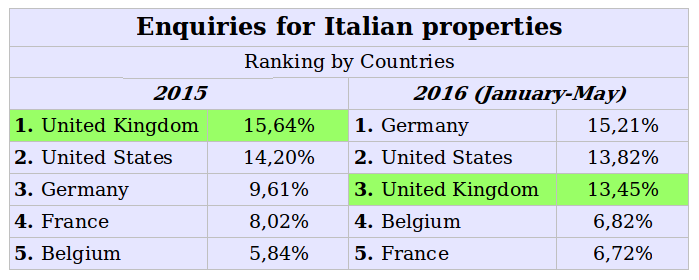 The growth of requests from the United Kingdom is still very strong and Italy remains one of the most desired destinations by the English, also by those who once looked to countries such as France, Turkey and Greece that have now been influenced by the geopolitical climate of great instability that has favoured Italy even more, a secure nation in which to invest under all points of view. The Italian real estate market has not fallen like in other countries because of the 2008 crisis, but even so, the prices of houses have dropped 20%, on average, compared to the pre-crisis period: therefore, even now it is possible to find some really excellent occasions in a healthy market that is giving its first signs of recovery so much so that the drop in prices is gradually slowing down.
What would Brexit mean for UK expats and would-be buyers in Italy?
No-one is able to give a certain answer about what will happen after a possible Brexit yet.
It is certain that all or the great majority of bilateral agreements will be reviewed and we foresee a period of "readjustment" of at least two years.
By virtue of what has been said the special relationship that exists between Italy and England will hardly be threatened because it would be unfavourable on both fronts but even in such an optimistic frame many things will inevitably change.
Brexit should not affect taxation for the purchase and possession of a house in Italy but it could generate longer times and added costs in dealing with bureaucratic procedures, like what happens now in relationships between England and non EU countries in which a Visa and permits are necessary to live, work or be pensioned in Italy and that wasn't necessary up till now.
This has also been confirmed by other experts in this field like Alan Turner from Forth Capital – a leading tax and financial advisory company, specialising in providing intelligent investment advice to international investors – that in a recent article highlighted some crucial issues in the life of an expat or of whoever is thinking of transferring himself and how it could change.
• Residence – The present status quo foresees freedom of circulation for all citizens belonging to the various EU countries. This could undergo some restrictions above all for those who have not yet transferred himself in the country in which they intend to buy a holiday home or spend their years of pension, such as Italy. This because a Visa will be then required, exactly like at present to go or stay in non EU countries like Canada or Australia for example.
• Health – In case of Brexit it may be necessary to obtain a private health insurance or pay to access health services. But the United Kingdom already designates funds to assist British citizens that live abroad in one of the EEA (European Economic Area) communities, for medical cures just like they ensure free assistance to European citizens that reside in England. Therefore this eventuality is only hypothetical at this point.
• Work – At the moment British citizens that live in another EU country benefit from many rights and advantages to work and open their own activity in Italy. After the 23rd June this could change and more permits that aren't necessary at the moment will be as well.
Our hopes are that the result of the Referendum will lead to the United Kingdom staying in the EU especially because of the great importance they assume for each other and with the aim to face the economic and financial difficulties of the whole Eurozone together.
Salva
Salva
Salva
Salva
Salva
Salva