2 bedrooms house, 105 m²
Casteldelci, Rimini (province)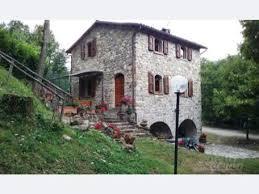 Description

The stone house Molino Pazzaglia (ancient water mill of 1857, rebuilt in 2000 by the architect. Carlo Cecchini) stands in an idyllic setting, surrounded by a forest of oaks, cedars and lawn, enclosed in a space of 7,000 square meters; bordering with the stream Senatello tributary of the River Marecchia, 15 km from Pennabilli.
Life here runs slow and pleasant, away from the harshness of urban areas, in close contact with nature and its rhythms more human, the absence of loud noise, stale air pollution, the crowds that throng of busy traffic allow their own personal tone neurological more relaxed and let their guard down, finding themselves in a more peaceful and serene; social relations and values ​​they earn a bit 'forgotten get together, they strike a better balance with psycho - physical and Basically a regained quality of life.
The cultivation of natural products for their own consumption in the garden, flowers and ornamental plants in the garden, the possibility of keeping pets, add further value.
CASTELDELCI is the nearby city hall, village gathered and perched on a ridge, there predominates the local stone that is shown on the buildings, streets and alleys of the old town with its medieval layout, which is a corollary of the surrounding woods; reigns the silence, the peace and the serenity, order, care and cleaning, and nothing here is out of place, environment and humans are in perfect harmony.
The gastronomic tradition of the place is full of strong flavors, mushrooms, truffles and game, his company, dedicated to agricultural activities, crafts and tourism, organizes cultural events throughout the year, festivals and fairs.
Comfortable furnishings in rustic elegant style with antique furniture.
Vera and only chance.

Places within driving distance Molino:

- Senatello, quaint town located in 900 ml from sea level with & restaurant
Farmhouse "Locanda di Federico" (6 km);
 "DA QUINTO"FROM FIFTH, bar, restaurant, swimming pool (10 km)
 BALZE, a tourist resort at 1,080 ml ​​from the sea level, with restaurants, pizzerias, shops, grocery stores, pharmacy, etc., (10 km);
 PENNABILLI, famous for its antiques shows, and for the residence of the poet, writer and assistant director Federico Fellini, Tonino Guerra. (12 km)
 Petrella Guidi, an ancient village completely renovated and decorated with works of art by Tonino Guerra. (15 km);
 NOVAFELTRIA big center, hospital. (30 km);
 BAGNODI ROMAGNA renowned spa. (35 km);

Location within walking distance from Molino:
 CASTELDELCI, an ancient medieval village, archaeological museum;
 Schigno, bakery oven, bar and food;
MARKET  the park's large ROSA;
 GIARDINIERA restaurant, supermarket, pharmacy, tennis court and sports field;
 MOLINO DI Schigno transformed into a private hydroelectric power plant, water source.
Details
House

Completely restored/Habitable

105 m²

2

1

7,000 m²

2000 m²

364

15941
Distance from:
Distances are calculated in a straight line
41.3 km

19.4 km - Ospedale Capelli

46.0 km

6.0 km
What's around this property
4.7 km - Pharmacy

15.4 km - Veterinary - Dr. David Satanassi
Information about Casteldelci
618 m a.s.l.

49.68 km²

Inland mountain

405
Contact Owner
Private Owner
Carlo Cecchini