agricultural land, 18220 m²
Massignano, Ascoli Piceno (province)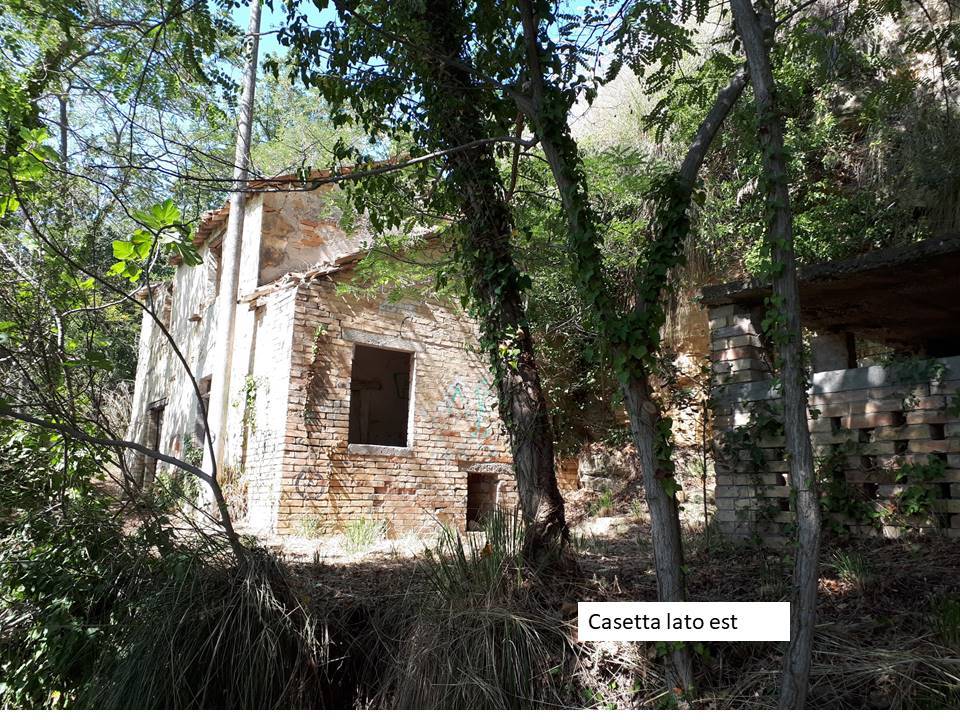 Description
An AGRICULTURAL LAND with adjoining PARTIALLY COLLAPSED RURAL BUILDING is sold in the Municipality of Massignano (AP), in Contrada Fontane, Marche, Italy.

AGRICULTURAL LAND

Extension 18220 sqm (from the land register) of which:

1. Olive grove of 13780 square meters, with 140 - 150 olive trees present partly on flat land, partly on terraced land, and others on sloping land
2. Mixed forest 4310 sqm

PARTIALLY COLLAPSED RURAL BUILDING

Dimensions: about 60 square meters, on 2 floors, with a 130 square meter courtyard

The building is located almost in the center of the land. It is well camouflaged and leaning against a sandstone wall on which a cave, once used as a cellar for wine, is excavated. Beside the building there is also a former animal shelter. The area of the building is surrounded by acacia trees and majestic centenary oaks.
From the census document of rural buildings of the Municipality of Massignano it appears that the following interventions are allowed on the aforementioned building:

a) ordinary and extraordinary maintenance;
b) restoration and conservative rehabilitation;
c) renovation without demolition;
d) renovation with partial demolition;
e) extension.
Furthermore, according to the opinion of the Municipality's technical office, the building could be moved for a possibly more suitable relocation within a radius of about 100 m from the current position.

Access to the land and to the building can take place through a main road (not indicated in the cadastral map) that runs on the border between parcels 307 and 308 of cadastral sheet 9, or through an access, already present, which from via S. Pietro enters parcel 118 of the land.

Attached are photos of:
1) The cadastral map relating to the land for sale, with the constituent particles (307, 308, 309, 117, 118, 119, 407 enclosed in a red highlight) indicated on sheet 9 of the Municipality of Massignano (photo 15)
2) The google area, appropriately delimited, of the land for sale (photo 14)
3) the partially collapsed rural building and its arrangement (photos 1-6)
2) some oak trees of the immediate surroundings (photos 7-9)
3) some areas of the olive grove present in the ground (photos 10-13)
Details
Agricultural land

To be restored

0 m²

1.8 ha

Terreno con rustico
Distance from:
Distances are calculated in a straight line
4.9 km

6.5 km - RSA

4.9 km

33.9 km
What's around this property
670 m - Pharmacy

9.8 km - Veterinary - Centro veterinario dottor Pagliarini
Information about Massignano
254 m a.s.l.

16.3 km²

Coastal hill

1639
Contact Owner
Private Owner
Dario Giardina'
Via Francesco I di Lorena 2, , CAMERINO, MC
3204381474
What do you think of this advert's quality?
Help us improve your Gate-away experience by giving a feedback about this advert.
Please, do not consider the property itself, but only the quality of how it is presented.