2 bedrooms trulli, 100 m²
Gagliano del Capo, Lecce (province)
Area:

Salento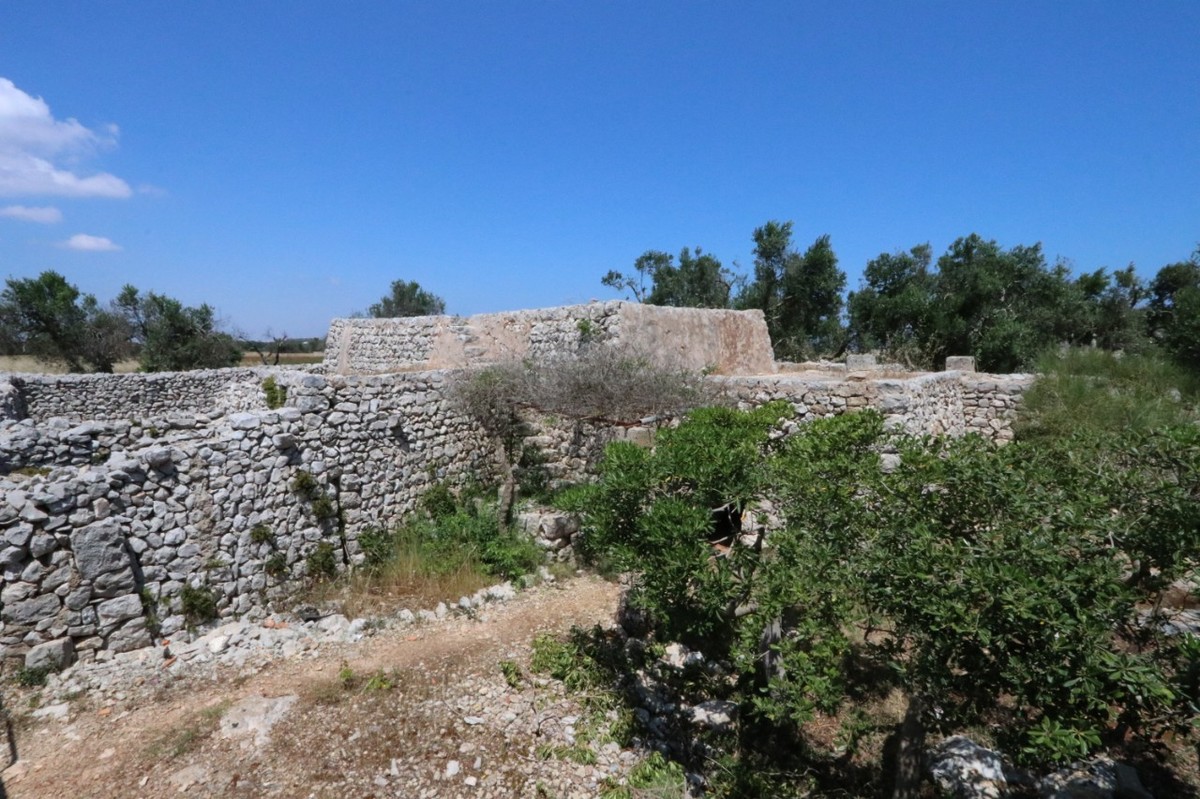 Description
SANTA MARIA DI LEUCA
Gagliano del Capo (LE)
Località Paduli - Forte Foresta

Rural building with 6 shorter rooms and Pajara
Land of 3680 square meters at 300 meters from the Adriatic Sea, 2 km from Santa Maria di Leuca, cultivated with centuries-old olive grove with overlying dry stone rural buildings dating back to around 1830. The building is more composed of 6 rooms, in excellent static condition . In front of the buildings it is possible to create pergolas in wood, iron or masonry columns, with overhanging canes or climbing plants, to ensure shading. The whole property is enclosed by dry stone walls for an average height of mt. 2.0.
On the ground there is a cistern, of drinking water, of ancient construction, buried in the ground, with automatic filling during the winter rains, by means of its own stone covering, being buried, but raised about 80 centimeters, and from the terraces of the building large, by means of terra-cotta rivers. Two other underground cisterns are present adjacent to the large building, for water hoarding. There are also 50 centuries-old olive trees, prickly pears and poplars.
Contact us and we will build the villa for you, turnkey, according to your wishes… All this with D'AMICO IMMOBILIARE !

Santa Maria di Leuca is 130 km from the Salento Airport (Brindisi) and 90 km from Lecce.
The urban center of Gagliano del Capo is 64 km from Lecce, while the airport of Salento (Brindisi) is km.113.
Two hamlets also belong to the municipality of Gagliano del Capo: Arigliano and San Dana.
Santa Maria di Leuca, in the past it was administratively divided between the municipality of Gagliano del Capo, for the part where the Sanctuary of Santa Maria de Finibus Terrae is located, and the municipality of Castrignano del Capo, for the part between Punta Ristola and Punta Meliso. Today it was agreed that Leuca falls entirely in the municipality of Castrignano del Capo. More precisely, Santa Maria di Leuca means the area above the promontory where the Basilica and the lighthouse are located (which with its height of 48.60 meters and its location at 102 meters above sea level is one of the most important of Italy), while the Marina di Leuca is located lower down and is between Punta Mèliso to the east, located at the foot of the promontory, and Punta Ristola to the west, the extreme southern corner of Salento. The point of separation between the Adriatic coast (to the east) and the Ionian coast (to the west) is placed according to a nautical convention.
Of note is the splendid stretch of coast that falls within the municipal territory of Gagliano del capo, in particular the Ciolo locality famous for the Gibò nightclub.
Details
Trulli

To be restored

100 m²

2

2

3,680 m²

075
Distance from:
Distances are calculated in a straight line
139.9 km - Autostrada Adriatica

13.1 km - Azienda Ospedaliera Cardinale Giovanni Panico

690 m

164.0 km
What's around this property
3.0 km - Pharmacy

12.3 km - Veterinary - Ambulatorio Veterinario Sant'Antonio
Information about Gagliano del Capo
144 m a.s.l.

16.6 km²

Flatland

5154
Contact Agent
Piazza Torre, 14, Torre Vado - Marina di Morciano di Leuca, Lecce (LE)
+39 335 7329117
View agent's list