65 bedrooms hotel, 4040 m²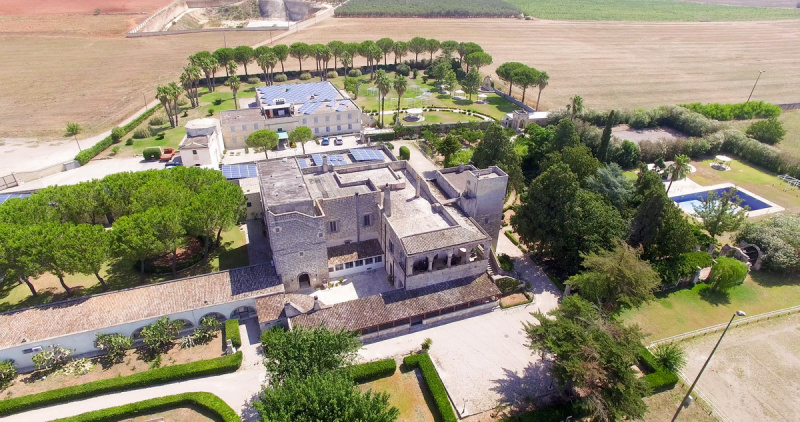 Main Features
garden
pool
cellar
Description
Halfway between Lecce, Otranto and Gallipoli, this property for sale includes a 6-hectare plot of land, an ancient farmhouse set up as an accommodation facility, a park, a swimming pool, a car parks, 2 restaurants, a chapel, a villa and a riding club with horse boxes, stables and various outbuildings.

Geographic position
Halfway between Otranto (25 km), Gallipoli (26 km), Lecce (30 km) and the wonderful beaches of the Ionian and Adriatic coast (both 20 minutes away by car), this hotel with a riding club – Terra d'Otranto – is immersed in Salento's characteristic countryside.
The farmhouse was initially the watchtower of the castle located in the nearby village. Then, a local aristocratic family transformed it into a summer residence and a prosperous farm.
This property has developed over the centuries, undergoing numerous renovations. Today, it hints at the glorious past of the ancient village, where open spaces, shelters for animals, workplaces and churches intersected around the historical building. Here, you can find stables, storage rooms and old deposits still with their original star- and barrel-vaulted ceilings and feeding troughs.
The airport of Brindisi is the nearest one (80 km, less than one hour away); whereas the airport of Bari (189 km) is two hours away.

Description of buildings
This 6-hectare property is set up as an accommodation facility that includes the 17th century residence, which has been transformed into a hotel, an independent apartment for the owners, an outbuilding that houses a restaurant and other rooms, a chapel, an independent villa and a large area with stables (which was a riding club a few years ago), horse race fields, a barn and other ancillary rooms.

Historical residence (net saleable area of about 2,496 sq.m)
Here you'll find the reception, the restaurant (roughly 40 seats), the kitchen, living areas, 36 rooms with en-suite bathroom and the owner's residence with 7 rooms and 8 bathrooms.

Restaurant and rooms (net saleable area of about 1,329 sq.m)
The outbuilding next to the historical residence includes a banquet hall (400 seats), the kitchen, and 19 rooms with bathroom both on the ground and first floor.
The park in front of the restaurant is the perfect location for summer events. For this purpose, you can also use the citrus grove, the small square inside the historical residence, and the wisteria arch so as to add roughly 300 people.

Chapel

Swimming pool outbuilding (net saleable area of about 17.5)
It includes a bathroom with a shower, four small storage rooms and a technical room.

The villa (net saleable area of about 215 sq.m)
It includes a large kitchen, the living room and three bedrooms. Garden with pergolas and access to the external road.
The roof requires regular maintenance and painting.

Area that can be used as a riding club
In the past, this farmhouse included a riding club, where athletes used to train for national competitions. Show jumping was the main discipline.
The club areas can be easily restored with regular maintenance.
Here we have a sand-based arena, a clay-based arena, a practice arena, two show jumping arenas, the saddlery, a large car and van park, a box-assembly area and a paddock.

Details and conditions of the buildings and riding club:
- Stables with horseboxes
A large building divided into 50 3x3 m horseboxes and 4 rooms for the saddles and harnesses.
The stables need painting; windows and doors need maintenance and the water supply system needs inspection.
- Stables (net saleable area of about 99 sq.m)
With stallion boxes and the farriery.
This building has a Lecce stone façade that needs regular maintenance.
- Locker rooms (net saleable area of about 321 sq.m)
This building houses technical rooms, administration and management offices, 2 locker rooms (ladies/gentlemen) and several bathrooms.
The building needs painting and inspection of the water supply systems.
- Barn (net saleable area of about 467 sq.m)
This building is intended for storing hay, straw and/or swarf.
Restoration and consolidation works are needed.
- Terraces of the sand-based show jumping arena.
- The jury's lodge.
- Deposit (net saleable area of about 25 sq.m)
- Deposit (net saleable area of about 31 sq.m).

Photovoltaic systems
The photovoltaic systems installed on some of the roofs (as you can see in the photos) belong to third parties. Those who are interested can purchase them separately.
The two 100kw photovoltaic systems cover roughly 50% of the hotel and restaurant's consumption. This way, the property can enjoy the benefits, worth € 20/25,000/year (besides the contribution received from the State), resulting from self-consumption and the sale of the residual energy.

Furnishings
The furniture belongs to third parties and you can buy it separately.

The measurements provided indicate the liveable surface area.
The liveable surface area is the same as the walkable surface area (which includes internal walls) plus 10% to take into account supporting walls.
The surface area occupied by stairs may only be calculated once.

State and finishing
The farmhouse is made of tufa and Lecce stone from local quarries.
The accommodation facility has been renovated and can be used immediately.
Both the villa and the riding club need regular maintenance and painting.
The barn must be renovated.
The large internal and external areas are in perfect conditions but can be further improved to enhance the value and charm of this exclusive property.

External areas
The private plot of land measures 6.38 hectares.
The historical residence, restaurant, swimming pool and villa are surrounded by a park with an Italianate garden, lawn, hedges, magnolias and tall trees, internal and external car parks and driveways.
The 10x20 swimming pool is 3 m deep and next to it there is a Lecce stone whirlpool bath.
The remaining plot of land is intended for the riding club.
There is also a tennis court, which needs renovation.

Use and potential uses
Thanks to its strategic position, near important towns and the sea, and large dimensions, this property is perfect for a hospitality business. The 2 restaurants and the large and versatile outdoor areas make it perfect for meetings, ceremonies and banquets.
Restoring the riding club will make this facility an exclusive venue for major equestrian competitions and events.
Details
Hotel

Partially restored

4040 m²

65

80

6.3 ha

63,000 m²

282

Hotel con circolo ippico Terra d'Otranto - FXFV
Distance from:
Distances are calculated in a straight line
115.6 km - Autostrada Adriatica

540 m

15.8 km

175.0 km
What's around this property
120 m - Pharmacy - Farmacia Tronci

22.0 km - Veterinary - Ambulatorio Veterinario Sant'Antonio
Information about Maglie
81 m a.s.l.

22.66 km²

Flatland

14345
What do you think of this advert's quality?
Help us improve your Gate-away experience by giving a feedback about this advert.
Please, do not consider the property itself, but only the quality of how it is presented.