$5,463,588 HKD
(595,000 €)
5 bedrooms country house, 195 m²
Borgo a Mozzano, Lucca (province)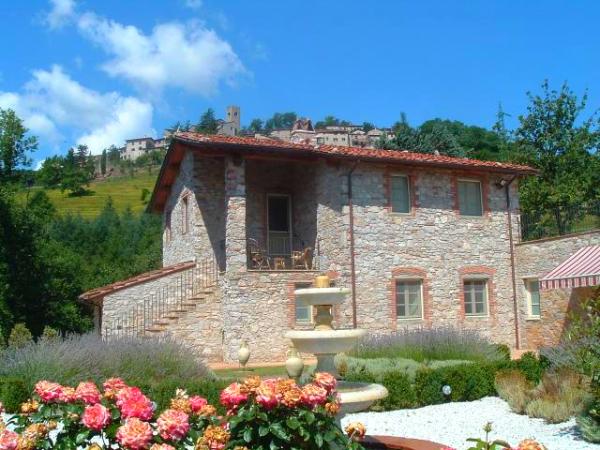 Main Features
garden
pool
terrace
Description
"DOLCEVENTO"
Very safe - very private - very peaceful. Beautifully located off the beaten track, but within ten minutes of the local town and half an hour from the city of Lucca.

Access via a lane which is a cul-de-sac ensures not only privacy but also security and silence - essential features for a holiday or retirement home.

Dolcevento in Italian literally means "sweet wind" or, more conventionally, "gentle breeze". The name epitomizes the nature of a summer sojourn in a location where, even at the height of summer, there is usually a gentle breeze to mitigate the sun's fiercest rays when outdoors by the pool with a glass of wine nearby.

Indoors there is never a problem since the extremely thick stone walls of the house ensure excellent insulation from the heat. Bug screens on all openings ensure complete insulation from intrusive insects (although there are very few of them, happily).

It is true that Tuscany in winter can be chilly, but the house has underfloor heating, double glazing and a fireplace to keep you cosy. Although redeveloped principally as a summer holiday home, the owner has lived in the house for the last 8 years all the year round.

Because it was designed to be a holiday house, Dolcevento is an attractive prospect for those who want a holiday home as well as for those who want a retirement home in Italy. If you do not intend to live in it for more than a few weeks each year, you can earn enough income from rentals to pay all the bills and give you cash in hand. This cash is supplemented by the photovoltaic installation which generates electricity which is sold to the grid, thereby reducing the electricity bills as well as providing a regular income from the sale of excess electricity.

Another saving is effected by the solar panels which ensure that domestic hot water costs nothing during the summer months.

The interior layout of the house offers great flexibility and can be adapted to suit different requirements. There are 5 bathrooms en suite with 5 rooms which, if used as bedrooms, can therefore sleep up to 10 persons – an attractive feature for holiday rental purposes. 3 bedrooms are upstairs and the other two downstairs. One of the latter can be a living room while the other – a room large enough to be a garage with suitable access for a car – has been designed to enable handicapped visitors to reach it and its associated very fully equipped bathroom in a wheelchair. Again, a very attractive feature in a rental property which can also be used as a summer sitting room overlooking the formal garden when not needed as a bedroom. This room has recently been refurbished so as to be principally a recreation room with television (although it can be used as a double bedroom); we now refer to it as The Garden Room.

The kitchen has been divided into a main cooking area with a sink; an adjacent scullery, suitable for food preparation and storage,is equipped with a large American refrigerator/freezer with ice-maker, a dishwasher and two further sinks.

Other utilities are located in a back room in which are the washing machine, hot water tanks and broom cupboard, as well as space for an office, workshop and storage. The bedrooms all have attic space for storage of rarely needed items.

Outdoors there are 3½ acres of land. The garden around the house has been laid out to provide different zones of activity: a formal garden with a fountain on the east side of the house to provide an attractive frontage; patio area on the west side where an enormous solid wood table and a purpose-built barbecue provide the right setting for al fresco lunches, dinners and parties; a games lawn (with an in ground irrigation system) which can be adapted for croquet or tennis; a large car park; a utilitarian area, sheltered from view, on which are 30photovoltaic panels, six solar panels, a 1.5 metre wide satellite dish for television and an area equipped for drying laundry in the sun; and the very private pool area which has magnificent views of the surrounding scenery.

The pool is fully automated and very easy to maintain and keep clean. Length 14.5 m, width 5.5 m, depth between 2.4 and 1.2 m. An electro-hydraulic cover which can be drawn over the pool in 40 seconds by merely pressing a switch ensures safety, cleanliness and retention of absorbed heat. There are underwater lights and the pool is flanked by three palm trees which can be illuminated by spotlights at night.

The surrounding area is extremely peaceful. The lane leads you 600 metres from the main road to the top of the driveway (and ends shortly after passing it). This means that the only passing traffic is my neighbour's (a very friendly American family). The nearby town has all necessary shops and facilities, including a supermarket and delicatessen, banks, pharmacy, medical centre, police station, post office, railway station, open air theatre, restaurants, bars, weekly market day, and much else including car parks with no parking meters. The town has a soul and is surprisingly dynamic: each year there are several festivals including the Azalea Festival in April, a Beer Festival by the river in July, a large Halloween Festival on October 31st as well as summer open air concerts and other performances. The city of Lucca can be reached in half an hour.

Footnote
(1) The published price is for the property alone, but the owner is very willing to sell it as a fully furnished going concern with all its antique pieces, many of which can be seen in the photographs, as well as the modern beds, bedding, sofas and armchairs. Such a sale is open to negotiation.
(2) The house is currently being rented as a self-catering holiday house from May to October. In the event of a purchase, the current rental agreement until the end of the rental period would have to be respected, but the income would be paid to the new owner from the date of legal possession.
Details
Country house

Completely restored/Habitable

195 m²

5

5

1 ha

5000 m²

10 m²

Dolcevento
Distance from:
Distances are calculated in a straight line
18.6 km

10.0 km - Ospedale San Francesco

28.3 km

15.0 km
What's around this property
3.4 km - Pharmacy

11.7 km - Veterinary
Information about Borgo a Mozzano
97 m a.s.l.

72.2 km²

Inland mountain

7003
Contact Owner
Private Owner
Diccon Masterman
\"Dolcevento\", Borgo a Mozzano, Lucca (LU)