3 bedrooms villa, 570 m²
Viterbo, Viterbo (province)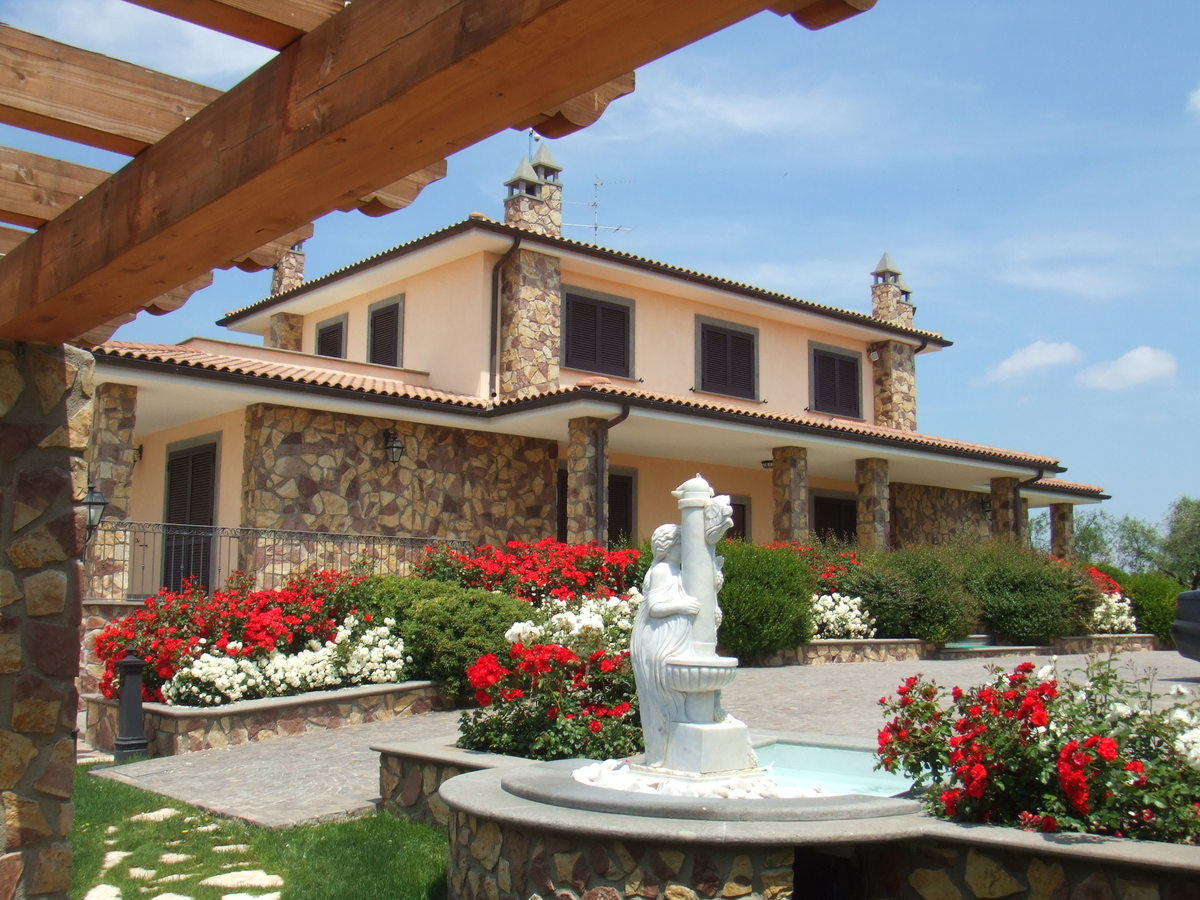 Main Features
garden
pool
terrace
garage
cellar
Description
Location
In Viterbo, in the City of the Popes, in the high Maremma area of Viterbo, in a dominant position on the Faul valleys, nestled in the Cimini mountains, in a splendid panorama that reveals the view from Montefiascone to S Martino, to the sea, less than 2 Km as the crow flies from the sources of Bullicame (already known at the time of Dante and mentioned in the Divine Comedy), known for their thermal and healing qualities and a stone's throw from the spa complexes of Pianeta Benessere and Terme Salus.
Location and exterior
Detached villa in Viterbo surrounded by greenery, easily accessible less than 5 minutes from the center and about 1,800 meters from Porta Faul on a fully paved road. Finely furnished with fine finishes and exterior stone cladding, the property includes an outbuilding, swimming pool with hydromassage and tall trees with fountains, benches, flower beds with mixed inflorescences (roses, myrtle, habelias, camellias, hydrangeas etc ...) as well at about 2,000 m of grassland, outlining large park areas that completely surround the housing units.
The internal parking area is about 1,000 square meters and is covered with porphyry with cobblestones on a previous concrete floor, laid in a "contrasted arch". The complex is enriched by an elegant fountain with a statue in carved marble, with a double bed of roses and artistic lighting.
About 18 poles with 3 lamps and LED light points for each olive tree, holm oak, magnolia, flower chile, futinia etc ... (about thirty) realize outdoor lighting, providing a wide range of possibilities for intensity desired light.
The technical rooms dedicated to irrigation and lighting are clad in stone and positioned at the end of the property, completely surrounded by a hedge made up of around 500 plants of Cupressum Leyland, each over 5 meters high.
The external electric gate, handmade on a personal project, bearing the initials of the property, easily allows the passage of any vehicle, even large.
A sophisticated complex of alarm systems (5 different types) including 16 cameras with 4 pieces of furniture (for the patrol) complete the equipment-outdoor furniture.
This text has been automatically translated.

Details
Villa

New

570 m²

3

5

4,600 m²

2000 m²

120 m²

Villa di lusso in vendita a Viterbo
Distance from:
Distances are calculated in a straight line
20.9 km

4.0 km - Ospedale Belcolle

36.9 km

65.0 km
What's around this property
1.8 km - Pharmacy - Farmacia Del Carmine

12.8 km - Veterinary - Clinica veterinaria Coppola
Information about Viterbo
326 m a.s.l.

406.23 km²

Inland hill

67488
Contact Owner
Private Owner
Private Owner