20 bedrooms historic house, 4300 m²
Borgo San Lorenzo, Florence (province)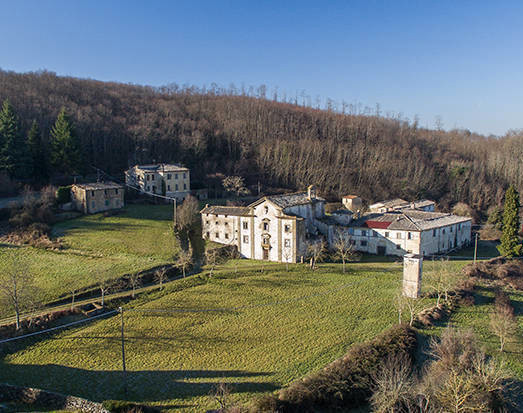 Description
BADIA DEL BUONSOLLAZZO, in the Medici town of Florence
Badia del Buonsollazzo, built according to the legend referring to Villani, by the will of Ugo di Brandenburg, who was Marquis of Tuscany before 961, who frequented the mansions of the Mugello feudal lords, leading a dissolute life (more or less like all those who they can afford it, then as now).
Once she had taken refuge in a cave because of a storm, she had a vision of the infernal penalties she would face because of her wickedness and she was so terrified that she would have vowed to build seven abbeys. In reality this is not known until the second half of the XXII century. It was before the Benedictines and then the Cistercians; some of the others remain traces in the beautiful cloisters incorporated in the eighteenth-century structures. The church, as it is presented today, was rebuilt by Cosimo III in 1705. The elegant, high and slender façade is rich in decorations with the Medici coat of arms in the center.
The name Bonum Solatium literally means "healthy shelter" for body and spirit.
The huge convent complex is situated in an enviable panoramic position.
Technical data:
- The Complex is in the municipality of Borgo San Lorenzo, in the province of Florence in Tuscany at an altitude of 700 meters.
- The distance from the center of Florence is 20 minutes by car, and the distance from the airport is 30 minutes.
- The Complex consists of 4 buildings, which add 4,300 sq.m of floor space
.- The land around the Conventop is 60 hectares, with lawn and forest.
This text has been automatically translated.

Details
Historic house

To be restored

4300 m²

20

10

7,000 m²

500 m²

HISTORIC CONVENT IN TUSCANY
Distance from:
Distances are calculated in a straight line
Distances are calculated from the center of the city.
The exact location of this property was not specified by the advertiser.
3.0 km - Train Station - Vaglia

8.6 km - Pronto Soccorso Ospedale del Mugello

85.0 km

25.0 km
Information about Borgo San Lorenzo
193 m a.s.l.

146.37 km²

Inland hill

18388
Map
The property is located within the highlighted Municipality.
The advertiser has chosen not to show the exact location of this property.
Google Satellite View©
Contact Owner
Private Owner
COPRIK PLAST SRL
VIA DEL SANTO 1, LOREGGIA, PADOVA