10 bedrooms historic house, 750 m²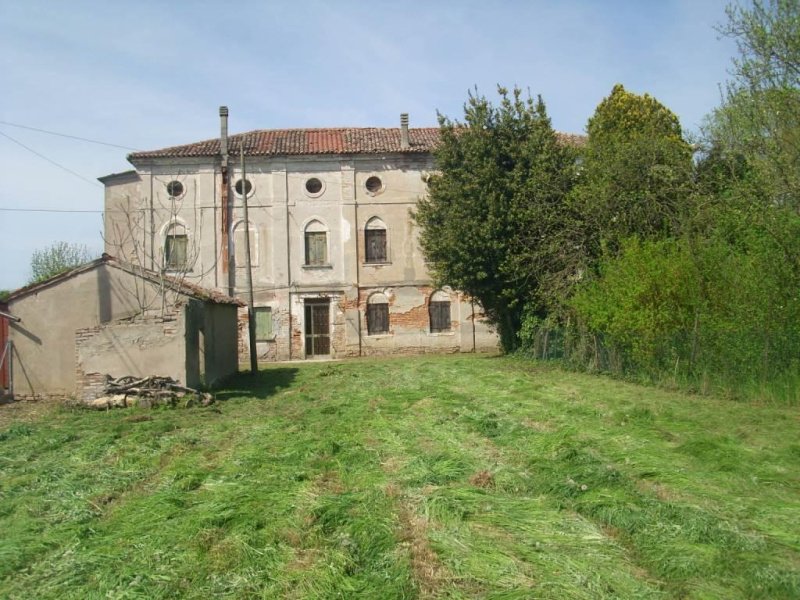 Main Features
garden
garage
Description
Situated in the North-East of Italy, this wonderful Venetian Palace was built in the 18th century. It is a countryside property, historically owned by the noble Venetian family Patrizi Emo. It is located in the neighborhood of Ca' Emo, via Ramalto n.7 in the small town of Adria (province of Rovigo).
The property is in a strategic spot to reach great art cities and touristic destinations, such as Venice (about 1 hour by car), Verona (about 1 hour and a half), Chioggia (40 minutes), Rosolina Mare beaches and Porto Tolle (30 minutes), Padova (1 hour). For further information about the territory please refer to this website: https://www.veneto.eu/EN/DeltaPo_Park/

Adria is a town with great history: in the VI century b.C., during the Greek age, the Adriatic Sea was named after the town. Today, the area has great value in terms of biodiversity and natural heritage. It is inside the famous Natural Park of the Region Veneto of the Delta del Po, a preserved area where River Po meets the Adriatic Sea. The natural park is home to culture and traditions that can be experienced in the unique historical setting. The area offers visitors excursions, events, activities like birdwatching or trekking, and hundreds of different paths for bike tourism and hiking. The palace is in the countryside, and so it is ideal for animal lovers and for those who are looking for a peaceful place. On the eastern and northern sides of the property there is a historical canal, Canale Adigetto, that was used by the noble family as a quick way to arrive to the Venetian Lagoon during the Republic of Venice. Nowadays the canal is no longer navigable, but it offers a wonderful habitat for different species.

The palace is about 750 square meters (about 8073 squared ft) and it is divided into three parts. The three parts of the building can be sold separately (eastern side, central and western). From the historical documents that were found, the eastern side of the palace seems to be the original private chapel of the Villa. The building has a total of three floors: ground floor, first and second. Each floor has a minimum height of 2,5 meters (about 8.20 ft). The second and final floor displays the roof directly, so that the original wood structure is visible, and the ceilingreaches 4,5 meters (about 14.7 ft). Around the building the property expands for about 4000 square meters (about 13123.4 squared ft), a private plot of land that surrounds the palace and guaranties privacy. It is ideal for growing a vegetable garden or even for a swimming pool.

The building needs a complete restoration: electrical system, heating, plasters; it needs stabilization of the walls and the roof. There are several cracks on the walls, which are under the pressure of the original roof. For these reasons, a structural consolidation is needed. The roof has to be redone completely, although the original materials can be restored. The roof still has its original wooden beams, and the foundations of the building are also the original ones.
At the moment in Italy there is a new law called "Ecobonus", that encourages those who wish to restore old buildings with incentives and refund the restoreation costs up to 65% of the investment.
The property provide electrical system, water, gas, etc.

There is no historic restriction for the restoration; there is the possibility to create more living units or tourist facility such as B&B with pool and park.
https://www.culturaveneto.it/it/beni-culturali/ville-venete/610d9c76b282ae2cca159181
Details
Historic house

To be restored

750 m²

10

6

4,000 m²

Venetian Villa of 1700
Distance from:
Distances are calculated in a straight line
16.5 km - Autostrada Bologna-Padova

6.4 km - Croce verde

27.7 km

86.0 km
What's around this property
6.9 km - Pharmacy - San Leonardo

26.7 km - Veterinary
Information about Adria
4 m a.s.l.

113.39 km²

Flatland

19604
What do you think of this advert's quality?
Help us improve your Gate-away experience by giving a feedback about this advert.
Please, do not consider the property itself, but only the quality of how it is presented.