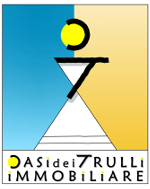 OASI DEI TRULLI
Via San Giovanni Bosco, 1
San Michele Salentino - Brindisi (BR)
+39 0831 966643
Our agency has been working in the real estate field for a long time now, addressing interest and particular care to the historical structures typical of the rural culture of Apulia.
Among this structures trulli, buildings that are unique in the world, made entirely of ashlars of calcareous stone, with a particular conical covering, and the manor farms represent the maximum expression of the identity of the historical and architectural cultural of the Salento territory.
Today they become sought-after architectural monuments; these ancient structures, surrounded by the splendid centuries-old olive tree groves, conserve all the charme and the original beauty.
In particular the trullo, born as shelter for the farmers, is now skilfully renovated and adapted to the needs of the modernity to become the ideal place for people who love to stay in the nature, relaxing alone or with others, without sacrificing the sought luxury.
On our website you can choose properties among the most different proposals, immersed in the splendid locations of Apulia, from the ones on the coast with the dazzling light and the turquoise of the sea on the background to the ones on the quiet hilly countryside with the intense green of the olive trees that contrasts with the cobalt blue of the sky; for this reason they have something more that can make our customer fall in love.
Considering the strict ten-year collaboration with expert professionals, surveyors, engineers and architects and with a company that deals with the restoration of the typical structures of the territory, we offer to our clientele a complete service, upon request, that goes from the free consultation for an estimate of a work to the project in every phase, till the realization of the works "keys in hand". All the works are studied till the minimum detail, to make every result an architectural-landscape masterpiece, respecting the typical characteristics of the environment of our territory.
The philosophy of our agency is to reach the maximum professionalism to ensure realibility and continuous assistance to our clients, from the first approach with the property to the deed and also more.
CONTACT US at +39 320 2112313 (English speaking staff)
Properties for sale by OASI DEI TRULLI
:
97
Search results for: OASI DEI TRULLI