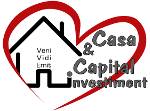 Casa&Capital Investment
Via Flaminia Nuova 834/836
Roma - Roma
+39 347 0402401; +39 388 1028705
La Casa Capital Investment (CCI) is a full-service agency dedicated to assisting international clients to search, find, and acquire property in Italy. We exist to smooth your way to your perfect home abroad.
We are an officially registered business in Lazio, Italy (camera di commercio) REA/CCIAA Rome n. 1435647. Our specialists are licensed to conduct all aspects of a real estate transaction; we have a consulting group of financial, engineering, language and legal experts.

With our assistance INVESTING IN ITALY HAS NEVER BEEN SO EASY AND SAFE...

Our TOTAL ASSISTANCE PROGRAMME – assistance with the entire property buying process, and provision of open ended, after-sales support. Provided in English and several other languages.

1. We search for and select suitable properties on your behalf, based on a list exactly personalized to your needs; for example, neighborhood, work and/or family requirements, locale preference.
2. We can arrange and/or manage an enjoyable, stress-free visit to Italy to view our properties
3. We provide full -service consultancy to obtain documents required in Italian real estate transaction:
Secure and manage acquisition of Power of Attorney (procura) to provide "distance buying" possibility – (client need not be physically present in Italy to acquire documents or for final completion of sale.)
Secure tax-identification number (Codice Fiscale)
Secure Italian bank account (Conto Corrente)
Secure escrow agent account (Conto Agente di deposito a garanzia)
4. We draw up Intent to Purchase and Preliminary Sales Contract (compromesso/preliminare di vendita) in two languages, in consultation with legal and language professionals;
5. We provide and manage property screening, namely
title and covenant search at land registry, for sale impediments including fiscal improprieties, in consultation with legal and financial professionals
structural screening and survey checks for soundness and/or conformity to code and description, in consultation with engineering professionals

6. We provide Notary services (Notaio) public official who conducts property closing, transcribes and registers the deed (rogito), ensuring legal conformity and definitive property ownership.
7. We can secure, and manage, remodeling and construction services, if desired, to prepare your property for move-in
8. We provide open-ended, after-sales support to make your transition as smooth as possible
a. Secure utility contracts, electric, gas, water,
b. Assist in Health Service enrollment (SSN) and acquisition of Health Identification Card and Insurance
c. Assist in Italian language acquisition – schools, translators, tutors
d. Assist in location of shopping and services
e. Assist and manage acquisition of Italian drivers license (Patente)
f. Secure services of multi-lingual professionals such as physicians, dentists, accountants, financial consultants.
Properties for sale by Casa&Capital Investment
:
49
Search results for: Casa&Capital Investment