Agent
L'Ariete Immobiliare di Silvia Cometto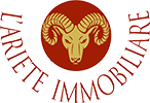 L'Ariete Immobiliare di Silvia Cometto
Piazza del Popolo, 22
Bordighera - Imperia
+39 0184 999524
The real estate agency L'Ariete Immobiliare, situated in the heart of the historical centre of Bordighera Alta is managed by Silvia Cometto who gave a new life to the family business, founded in Turin in 1950. She mantained the logo and continued the business activity with the same passion.
The experience in the real estate sector, the deep knowledge of the territory and the great interest in restoration and furniture, allow the manager to work personally in the realization of her customers' dreams.
Silvia takes care not only of the buying and selling, but also of all the documents required to reach the conclusion of the agreement with guarantees for both parties. She offers the necessary consulting and ad hoc services for every need.
Ariete Immobiliare is a point of reference for its customers, national and international ones, that is opened every afternoon. Furthermore Silvia is available in the morning by appointment only.
Properties for sale by L'Ariete Immobiliare di Silvia Cometto
:
30
Search results for: L'Ariete Immobiliare di Silvia Cometto