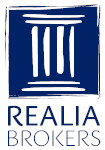 REALIA BROKERS
Via Libertà, 189
Golfo Aranci - Sassari
+39 0789 615002; +39 339 7305157
WHO WE ARE AND WHAT WE DO:
Our company brings together proficiency, many years of experience and the continuous collaboration with some notable professionals constantly connected to real estate sales and new constructions in Northern Sardinia. We offer our services to those who want to invest in the real estate market of Sardinia in maximum safety. Our work involves different stages:
1. PROPERTY RESEARCH AND SELECTION:
Research and selection of the most interesting properties to place on the market. House price estimates based on the deep knowledge of the real market value that we face day by day and not on academic calculations, which often do not reflect actual house prices.

2. PROMOTION AND PROPERTY SALE:
We promote sales by proposing properties to our established customers and to our entire network of Italian and foreign collaborators. We search for more potential clients through advertising on the Internet and property magazines.

3. SPECIFIC RESEARCH MANDATES:
We receive specific mandates to search for and personalize certain types of properties or business solutions that meet the customer's desired criteria.

4. REAL ESTATE TRANSACTIONS:
We take care of the full organization of the real estate selling steps. Starting from an appropriate land selection and the most suitable area, continuing with an in-depth analysis of commercial aspects regarding the design to the full management of the marketing tactics and the selling process.

5. TAKING CARE OF THE PROPERTY AND ITS PAPERWORK
Collecting and analyzing property documentation, hypo-cadastral surveys and urban planning in order to verify the absence of critical situations that could put the final sale at risk. Through our dedicated network we can count on the collaboration and cooperation of qualified professionals that can be suggested to the owner to follow all the property paperwork, the bureaucratic aspects, etc.
OUR COMPANY PURPOSE:
Our mission is to be a fixed point of reference and trust for our customers, for this reason we aim to continue doing what we do best, selling houses. We believe strongly that choosing us is not choosing just a real estate that will work for you but with you. Therefore we firmly believe that an agent needs to be a persone relatable and real, someone that you need to mesh with to be able to choose for you and not only for the house.
Properties for sale by REALIA BROKERS
:
29
Search results for: REALIA BROKERS