11 bedrooms villa, 2103 m²
Colli del Tronto, Ascoli Piceno (province)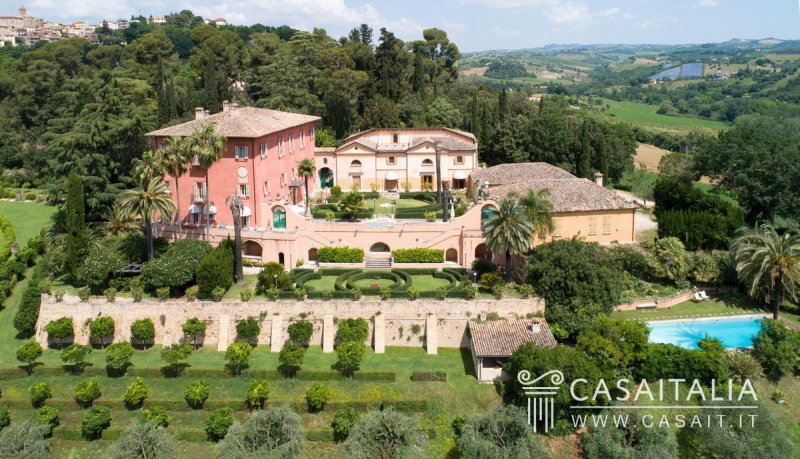 Main Features
garden
pool
terrace
garage
cellar
Description
Historical villa 15 minutes from the sea with a guest house, a private chapel, large open spaces, and the keeper's house. It is surrounded by an 8.5-ha plot of land with a swimming pool, an Italian-style garden, a citrus grove, a century-old wood, and a 7.5-ha olive grove. Net saleable area of approximately 2100 sq.m, with various living areas and 11 bedrooms.

Geographic position
Villa Piccolomini is 1 km away from a small built-up area in the Marche region. It's located in a hilly position overlooking the beautiful countryside and sea.

The Adriatic sea and San Benedetto del Tronto, a renowned seaside destination on the Riviera delle Palme, are just 15 minutes away.
This property is in a private yet accessible position, well connected to the seaside and main cities of the Adriatic coast.
The Sibillini National Park is one hour away, whereas the nearest airports are Ancona (110 km, a 1-hour drive) and Pescara (77 km, about half an hour). And you have to drive for only 8 km to reach the nearest heliport.

Description of buildings
Although its origins are lost in time, the first official news of the house-fortress from which Villa Piccolomini originated dates back to the mid-14th century when the Tibaldeschi family obtained the property from the Bishop of Ascoli Piceno in perpetual emphyteusis.
As a setting of many historical events, such as the conspiracy against Pope Urban VIII, this villa was home to some of the most influential families of that time, from Cardinal Centini to the Piccolomini. Over the years, it went through periods of splendour and neglect before undergoing a recent renovation.
"Hic secura quies, hic pax, hic gaudia vera" ("Here is quiet, here is peace, here is true joy"). This motto carved in stone on the entrance door reflects the true essence of Villa Piccolomini.
Spirituality permeates this place. You can feel the vibrations of the prominent people who formerly resided here and commoners and farmers who used to flock to the villa at the end of the 1800s for the Perdonanza fair, held in the property's courtyard and gardens.

The buildings stretch over a net saleable area of about 2100 sq.m. They include the villa, the private chapel, the guest house, open spaces, and the keeper's house, besides various ancillary rooms, and the garage.

Villa - 980 sq.m
23 rooms- 4+1 bedrooms- 7 bathrooms
This villa develops over three floors covering a net saleable area of 980 sq.m.
The ground floor includes the living area, consisting of an entrance, a study, four living rooms, a large kitchen, a dining room, two bathrooms, and a laundry room with access to the cellar.
The first floor (the main floor) houses a 50 sq.m frescoed hall and additional living rooms, some of which feature frescoes from the 15th, 17th, and 19th centuries, which came to light during the renovation. Moreover, the original handmade terracotta floors have been patiently restored.
A hallway in front of a bathroom can be used as a study. This hallway leads to the chapel's mezzanine through a corridor (the chapel is on the ground floor of the building where the guest house is).
The second floor includes a formal living room that leads to four airy bedrooms with en-suite bathrooms. The master suite includes a bedroom, a large walk-in wardrobe and an en-suite bathroom with a bathtub and a shower.

Guest house and private chapel - 486 sq.m. + a 28.5 sq.m terrace
12 rooms- 4 bedrooms- 4 bathrooms
Perpendicular to the main villa is the complex' central wing, housing a characteristic building with large brick vaults. Formerly used as stables, this building next to the chapel is now a guest house.
The ground floor consists of an entrance, a double vaulted-ceiling living room and a beautiful kitchen.
The building's left wing includes a consecrated private chapel. This chapel is home to a painting an 1873 of Our Lady of Sorrows by the Spanish artist Alejo de Vera, who was also director of the Spanish Academy of Fine Arts in Rome. Behind the chapel, we have the sacristy and a bathroom.
On the first floor, we have a living room, an additional kitchen and four bedrooms (two of which with a mezzanine) with three bathrooms.
The beautiful terrace on the upper floor can be used as a solarium.

An additional wing folds away right in front of the villa, shielding the inner courtyard. It includes two buildings with airy open-plan rooms and the keeper's house.

Exhibition areas - 313.5 sq.m + a 38 sq.m portico
4 rooms - 2 bathrooms
The basement houses the complex' oldest part. It features two living rooms with brick-vaulted ceilings and a large professional kitchen serving the outdoor areas and the swimming pool.
The upper floor includes a majestic 148 sq.m living room, which can be used as a meeting room or for exhibition events. This room features a large stone fireplace and was built on a plywood structure that seamlessly merges with the old building.
A 38 sq.m portico leads to the swimming pool in a private area surrounded by a lawn and tall palm trees.

Keeper's home and garage - 231.5 sq.m + a 38 sq.m portico
7 rooms- 3 bedrooms- 2 bathrooms
The keeper's house includes a living room, a kitchen, three bedrooms, 2 bathrooms and a garage on the ground floor.

Moreover, the property houses a 37.5 sq.m technical room serving the swimming pool, a 35 sq.m woodshed, and a 20 sq.m dog shelter.

This area is calculated based on the net floor area, including interior partitions and increased by 10% for load-bearing walls.
The portico and the terraces are calculated separately and should be added to the total area.

State and finishing
This property has been entirely renovated, bringing the old structure back to light while respecting the history of this place.
Only top-quality finishes were used during the renovation.
Particular attention was put into recovering and restoring the original materials, such as the outstanding terracotta floor on the main floor.
A large block of Carrara marble with delicate veining and warm tones was used to clad the bathrooms and its accessories.
The ceilings' original frescoes were renovated, whereas other living areas have been embellished with William Xerra's paintings and polychrome ceramic tiles handmade by Cleto Capponi inspired by Renaissance motifs and local rural life.
By walking across the park, you will encounter sculptures by Alfeo Stanga, a respected and appreciated artist who recently passed away. Stagna spent a long period in this property and found inspiration in its beauty.

External areas
The villa stands mightily on the top of the hill. It is embraced by an ancient external wall with buttresses and an 8-ha plot of land, including 7.5 ha of olive groves of various varieties: Ascolana Tenera (about a quarter of the total number of trees), Frantoio, Moraiolo and Leccino.
Behind the buildings, there's a century-old wood crossed by a long driveway and shady paths. There's also a botanic garden with over 300 citrus plants, including 100 Florence Lemon Citrons (some in pots, others in-ground), and a walkway lined with box hedges, 250 lemon, orange, mandarin and Chinese tangerine trees.
The magnificent Italian-style garden is surrounded by unique century-old Cycas, palm trees of different types and heights, century-old oaks, and many other precious species of trees, including 300 cypresses.
The swimming pool (20x4 m) is tiled with mosaics and features an automatic winter cover and a water heating system.

Use and potential uses
Villa Piccolomini is a work of art built in six hundred years. An outstanding and distinctive testament to this location's past, infused with spirituality that is still palpable today.
Due to its historical importance, Villa Piccolomini is perfect for those looking for a sophisticated and luxurious residence or a unique estate where to add another page of history.
It can be used as a private formal residence or for art exhibitions, fashion events, and business meetings.
Details
Villa

Completely restored/Habitable

2103 m²

11

15

8.6 ha

9,000 m²

142.75

Villa Piccolomini - X1IJ
Distance from:
Distances are calculated in a straight line
2.5 km

7.1 km

13.5 km

16.8 km
What's around this property
890 m - Pharmacy - Farmacia D'Avella

3.8 km - Veterinary
Information about Colli del Tronto
168 m a.s.l.

5.94 km²

Coastal hill

3655
What do you think of this advert's quality?
Help us improve your Gate-away experience by giving a feedback about this advert.
Please, do not consider the property itself, but only the quality of how it is presented.