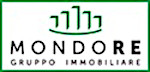 Mondore SRL
Via Castiglione 12/A
Bologna - Bologna
+39 051 728890
We are a Real Estate Consultants who has chosen to offer a life style, not only four meters and brick.
We believe in the real estate market and in our capacity to be the difference.
The real estate buys , involve an orientation to the cultural, emotional and financial aspects, often complex that, to be understood in their integrity, need some preparation for listening.
For this reason we guarantee attention and discretion to every customer who makes contact with our professionals.
The services offered to the customers include the following activities:
·Consultation
·Evaluations
·Promotions
· Investment
Home Station
·Renovations
·Intermediation
·Auctions Real Estate
Properties for sale by Mondore SRL
:
1
Search results for: Mondore SRL