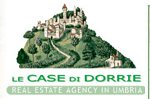 Le Case di Dorrie
Strada di Montevile n° 5
PERUGIA - Perugia
+39 335 220727
Services and Rates
Le Case di Dorrie is an Italian company (Ch. Commerce Perugia 238481, VAT number 02749990541) and was created by C.D. Seijffert, conference interpreter for over 20 years but now qualified real estate agent by the Italian law, registration number 11057, member of FIMAA, the Italian Association of Real Estate Agents. Its objective is to provide services and intermediation in real estate purchases and rentals in Central Italy , mainly in Umbria. Le Case di Dorrie provides intermediation directly between parties in sales or rentals of properties and businesses. Le Case di Dorrie can also act as an agent for one party, in case another agent represents the other party.
The website of Le Case di Dorrie can be found at http://www.lecasedidorrie.com. You will find only a part of the total, constantly changing selection of properties for sale. We do our best to keep the list up to date, but please always enquire if a property is still available!
Le Case di Dorrie tries to be very precise in providing the correct information and documentation. However we decline any responsibility in the case of factual imprecision.

PURCHASE OF PROPERTIES
Upon request Le Case di Dorrie will send you by email information, documentation and photographs about the properties and promotions published on the website.
If you are interested in one or more specific properties we set an appointment with the owner or local agent and visit the properties with you.
After each visit we will ask you to fill in and sign a short evaluation form. This is used as information to the owner and will not oblige you to buy the property.
In the case of a sale through Le Case di Dorrie we charge a fee of 3 % (+VAT)on the price of sale, with a minimum of 3000 Euros (+VAT), which is due at the signing of the preliminary contract, for the following services:
Advise and tips on the buying procedure, laws and life in Umbria;
-Visiting properties;
-The first day of visiting is free; visits lasting more than 1 day will be charged 25 Euros per hour plus a fuel fee of 0.25 Euros per km(+VAT).
-Communication with the owner/ local agent;
-Negotiation about the price and conditions;
-Gathering the necessary property documents (Cadastral certificates, old deeds, building permits, etc);
-Assistance for drafting and signing the proposal to purchase (proposta d'acquisto);
-Assistance for drafting and signing the preliminary purchase contract (compromesso);
-Assistance during final completion at a notary's;
Apart from this we can offer you the following services at an hourly rate of 25€ (+VAT):
-Assisting you to open a bank account;
-Applying for a "codice fiscale" at the Tax Authorities;
-Putting services (mains water, electricity, etc.) in your name.

Selling your property in Italy
You can also use the services of Le Case di Dorrie in case you want to sell your property in Italy. We will send you the list of documents required for this. We will visit your property, take many pictures, write a detailed description which will be translated into several languages after your approval of the draft. As soon as we have received all the necessary documents and the intermediation order we will publish your property on the website and in magazines or newspapers. We can send you a contract upon request.
RENTALS AND LETTINGS
Le Case di Dorrie also offers intermediation services for long and short term rentals of homes and commercial premises. We use Italian rental contracts.
-For short term letting up to 2 months a fee of 15% (+VAT)will be applied.
-For long term rentals (over 2 months)our statutory fee is 10 %(+VAT).
-For contracts longer than 1 year the fee is the rental of 1 month(+VAT).
We can also help you in letting your property to our clients.

COMPANY TAKEOVERS
Some of our clients want to buy ( or sell) a company, mostly an existing agriturismo or farm.
For such takeovers the company needs to be checked for debts and liabilities. Le Case di Dorrie can assist you in this process. We strongly recommend to hire an accountant or a lawyer who will work in close association with the notary. We can advise you in finding the right professionals.
In the case of company takeovers we charge the statutory fee of 5% with a minimum of 5000 Euro (+VAT), to be paid upon signing of the preliminary contract, for the standard services (see purchase of properties) plus the following additional services:
-Checking the company (at Chamber of Commerce, Mortgage Registry, Farmers' association).
-Communication with the accountant, lawyer and notary.
-Providing and explaining the company's balance and accounts, if present.
ADDITIONAL SERVICES
Le Case di Dorrie also offers advice and services in a whole range of specialized areas such as finding qualified translators and interpreters, applying for a mortgage in Italy, having a technical report written by a geometra, restoration, lettings, property management and all kinds of advice and information. These services are charged separately (all amounts are exclusive of VAT):
After Sale Services
Le Case di Dorrie can put you into contact with English speaking people who can help you with all sorts of practical things after you have bought a property: buying a new kitchen, finding a plumber, painter of electrician, helping with taking up residency at the local township, getting your Residency permit, etc. Hourly rate: 25 €(+VAT).
TRANSLATIONS
of official documents (purchase or mortgage deeds): 25 € per page (1500 characters) by a qualified translator, and 80 € the hour for a qualified interpreter and witness during completion.
MORTGAGE APPLICATIONS
Choice and application procedure for a mortgage with an Italian mortgage bank: meeting with the mortgage broker or the bank, short translation of your documents, visiting the property with the valuer, translation and communication bank-client by email: flat rate of 1000 Euro. The rates applied by valuer and the mortgage broker/bank are not included.
GENERAL TECHNICAL REPORT
by a recognized geometra(surveyor), on the state of a building together with an estimate of maximum and minimum restoration costs. The fee for this is 120 €(+VAT).
SPECIALIZED ADVICE
Le Case di Dorrie can assist you in finding out the Italian Laws on items such as: starting a B&B, agriturismo, a camping, hotel, etc. and also help you through the application procedure of permits. For each case a separate rate will be charged depending on the difficulty of the assignment.
RESTORATION
We can put you into contact with English speaking surveyors-geometras or architects-who can start up the restoration, arrange the application of the building permits, present the specifications to different building companies, advise you on the choice of builders and supervise the building.
Properties for sale by Le Case di Dorrie
:
55
Search results for: Le Case di Dorrie