Gate-away.com is supporting a bike ride to raise awareness for diversity, equity and inclusion. This is our social campaing for 2022.
"We have recently learned about the project of a real estate agent with whom we share the same work environment – Annalisa Angellotti, co-founder of Gate-away.com comments – and we were very impressed by his story and purpose which is overcoming social exclusion. I'm talking about Gianluca Santacatterina and his fundraising to help children with disabilities".
Santacatterina calls himself a runner/cyclist with a pacemaker
In March 2021, after a routine screening, Gianluca discovered he had a heart disease. "No symptoms, no pain," recalls Santacatterina. "From day to night I was in the hospital's semi-intensive care unit with a pacemaker implanted in my chest."
It is usually said that events like this change your life. For most of the people this remains a common saying but it really changed something for him. It changed the way he sees and thinks: he discovered that those with disabilities and their families have many difficult situations they must overcome in their lives which also involves economic aspects.
Santacatterina continues to run despite his heart disease and has also become a cyclist, for charity.
He organises long bike rides, which see him as a protagonist, to raise funds for these families.
On 7 April, he will set off from his home town, Schio, to Munich, and for the first time he will be with his close friends Simone and Achille, father and son who has Down's syndrome. They will follow him in a camper van and keep a travel diary.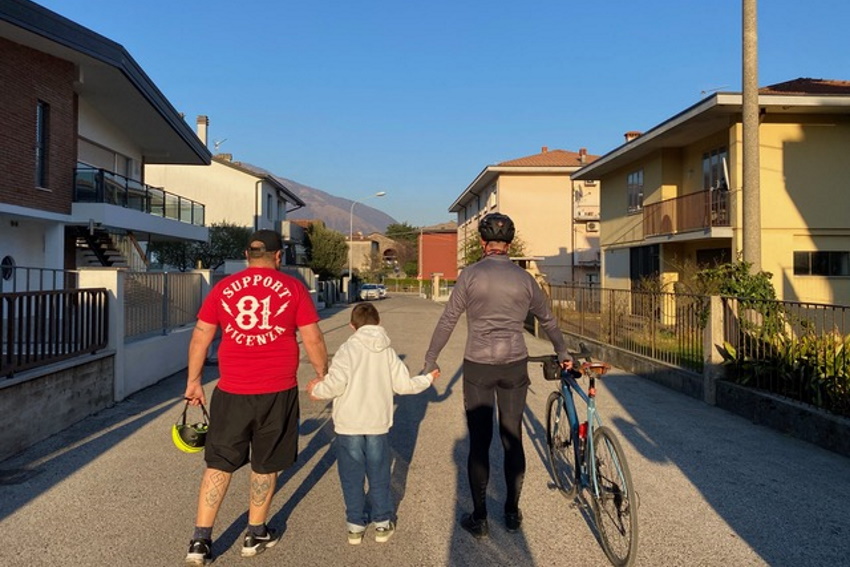 Gate-away.com supported the trip and will continue to support him by sharing the story that Achille and Simone will tell us.
"In this way," concludes Annalisa Angellotti, "in addition to our support to promote equity and inclusion, we would like to promote the best of Italy abroad by sharing Gianluca's trip throughout the boot-shaped country."
Waiting for Gianluca in the Piceno area
After Schio-Ostuni in September, Trieste-Ventimiglia in October and Schio-Munich in April, on 7 May Santacatterina will make the Padova-Civitanova trail in just two days. While on 7 June he will circumnavigate Sardinia and on 7 July he will reach the south of Le Marche. The Gate-away.com team is already moving to organise his arrival.
Follow the adventure of Gianluca, Achille and Simone on Instagram.