Tuscany remains the most sought-after region amongst international would-be buyers in Italy in the first three months of 2023, but their interest is increasingly growing especially for southern Italy.
According to data from Gate-away.com it is in fact the regions of Sicily and Sardinia that are performing best compared to the same period last year.
Where foreign citizens looked for a home in Q1 2023
Tuscany leads the ranking, remaining the favourite region with 18.7% of requests out of the total for the period. It is followed by Lombardy with 8.85%, Sicily (8.74%), Liguria (8.2%) and Apulia with 7.8%.
On the other hand, if we look at the growth compared to the same period last year, the islands are those which grew the most. So Sardinia leads the way with a growth in requests by 26%. It is followed by Sicily with a growth of 16.01% in queries.
Analysing the most requested locations, the Lake Como area has been the most requested one. This is followed by Salento and Valle d'Itria in Puglia, Lunigiana and Chianti in Tuscany, and Monferrato in Piedmont.
Also the area with the best performance is once again an island, namely Elba island, which records a +47% in requests. In second position is the Alps area with +36%, the Idro Lake area (30.56% y/y) in Lombardy and the Gargano area (+17%) of Puglia.
The most requested properties and from where in the world
The highest demand for Italian real estate in Q1 2023 comes from the United States of America, Germany, UK, Canada and France, but the best result in terms of increase compared to Q1 2022 comes from Switzerland with +25%.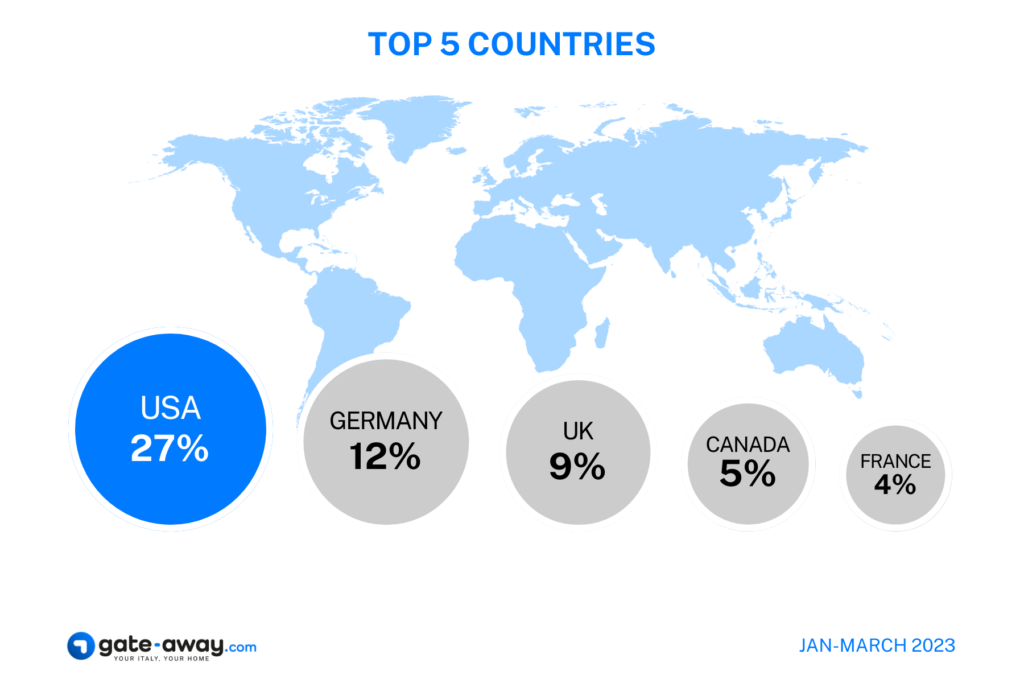 Overseas buyers continue to be mainly interested in 'flats', 'detached houses' and 'farmhouses' or 'country houses'. But there are also many requests for other categories of properties that are typical of the Italian territory, such as masserie, which you can mainly find in southern Italy and very common especially in Apulia. Masserie registered a +22% in requests during the first part of this year compared to the same period in 2022. Also the interest in the lamie, which are typical buildings from the Salento area, are growing in popularity with +90%.
The price ranges of the properties requested are distributed as follows: 39% for properties for sale up to 100,000 euros; 25.28% for the 100,000 – 250,000 euros bracket; 16.94% for those between 250,000 – 500,000 euros. A good 10.36% id for properties from 500,000 to 1 million euros and 8% for those for sale at over 1 million euros.
Do you have properties for sale in Italy? Advertise them internationally with us, click here to find out more.