It's no secret that Italy is a popular vacation destination for international celebrities. This is proven by the many celebs that have chosen to spend their Summer holidays in Italy also for this 2022.
Many of them have been spotted enjoying the sights and sounds of the bel paese in recent weeks with Kourtney Kardashian, who married Travis Barker for the third time on the Italian Riviera coastline in Portofino and inaugurated this glamorous Italian summer at the end of May.
Whether they're taking in the sights of Rome or spending time on the beaches of Naples, these stars know that Italy has something special to offer.
Here is a list of some of the places where they have been holidaying. So if you're looking for some celeb-spotting inspiration for your next trip, Italy is definitely the place to be.
Capri: the summer destination for celebs
The enchanting island of Capri is the queen of glamourous holidays.
Its jaw-dropping cliffs and its stunning blue waters are best appreciated with a boat trip.
And that's what the designer Marc Jacobs did, together with his husband and some friends. He stopped in Ponza and Ventotene before disembarking in Capri.
Eva Longoria enjoyed a few days of relaxation aboard a yacht with her husband José Baston and son Santiago.
Mariah Carey also chose to enjoy those incredible waters in the shadow of the Faraglioni, after the Dolce&Gabbana celebrations. While Jamie Foxx and Leonardo Di Caprio spent a festive evening enlivened by live music at the famous Taverna Anema e Core.
After her marriage to Ben Affleck, Jennifer Lopez flew to Capri with her children for a private charity concert organized by LuisaViaRoma for Unicef and then spent a few days of holiday there.
History and charm in Rome
The Eternal city is also a top destination and how could it be different? The Roman ruins have the merit to amaze everyone.
So Russell Crowe was recently spotted with his large family spending time visiting the Colosseum. Angelina Jolie also spent some time there enjoying dinners with a view of the iconic ancient site and she also attended the Maneskin concert with her daughter Shiloh.
Roman holidays for Kate Hudson and her daughter, too. Stop at the Colosseum also for Jessica Alba, who has been spotted with her family taking souvenir photos, before heading to Sicily for a few days of sun and relaxation in the province of Agrigento at the renowned Scala dei Turchi.
Venice: perfect for your summer holidays with the family
The fascinating and romantic lagoon city is the top destination for families this year. In fact, both the Beckhams and Alicia Keys took their entire families to visit this amazing city.
Tuscany: a top timeless destination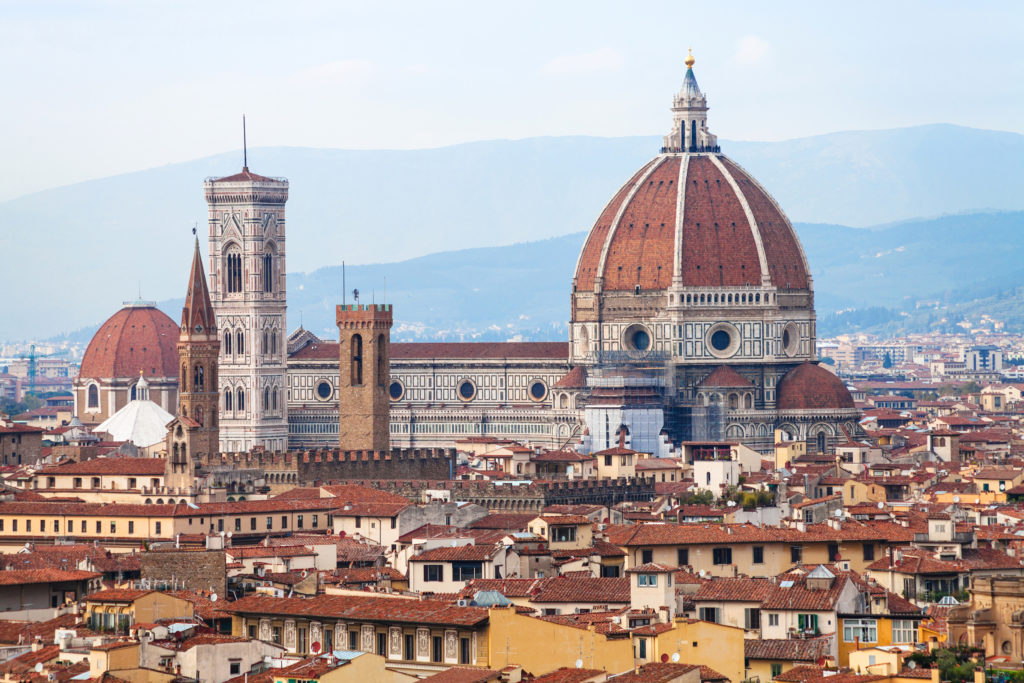 The hills, the art and the landscapes in Tuscany will never let you down and that's why it's a must-see.
Leonardo Di Caprio was spotted in Florence, enjoying the Uffizi museum as well as Justin Bieber and her wife Haley.
Green Day frontman Billie Joe Armstrong has chosen the historic town of Cortona for his Italian getaway.
Jared Leto, meanwhile, opted for a more low-key vacation on the island of Elba. The actor was spotted enjoying the sun, the beach and some diving.
The actor couple Kristen Bell and Dax Shepard have been touring the region too.
There's no doubt about it – Italy continues to be a firm favourite with the rich and famous. And we can see why – who wouldn't want to spend their summer in this beautiful, evocative country?