What's the situation like in your country in terms of gender equality?
According to the 2023 Global Gender Gap Index, which annually benchmarks the current state and evolution of gender parity since 2006 across 146 countries and four key dimensions (Economic Participation and Opportunity, Educational Attainment, Health and Survival, and Political Empowerment), no country has yet achieved full gender parity.
The top nine countries (Iceland, Norway, Finland, New Zealand, Sweden, Germany, Nicaragua, Namibia and Lithuania) have closed at least 80% of their gap. For the 14th year running, Iceland (91.2%) takes the top position and is the only country to have closed more than 90% of its gender gap.
Gender parity in Europe with its 76.3% ranks first of eight geographic areas and surpasses the parity level in North America (75%) this year. Closely behind Europe and North America is Latin America and the Caribbean, with 74.3% parity. Trailing more than 5 percentage points behind Latin America and the Caribbean are Eurasia and Central Asia (69%) as well as East Asia and the Pacific (68.8%). Sub-Saharan Africa ranks 6th (68.2%), slightly below the global weighted average score (68.3%). Southern Asia (63.4%) overtakes the Middle East and North Africa (62.6%), which is, in 2023, the region furthest away from parity.
In this scenario Italy stands 79th this year compared to 2022 when it was in 63rd position.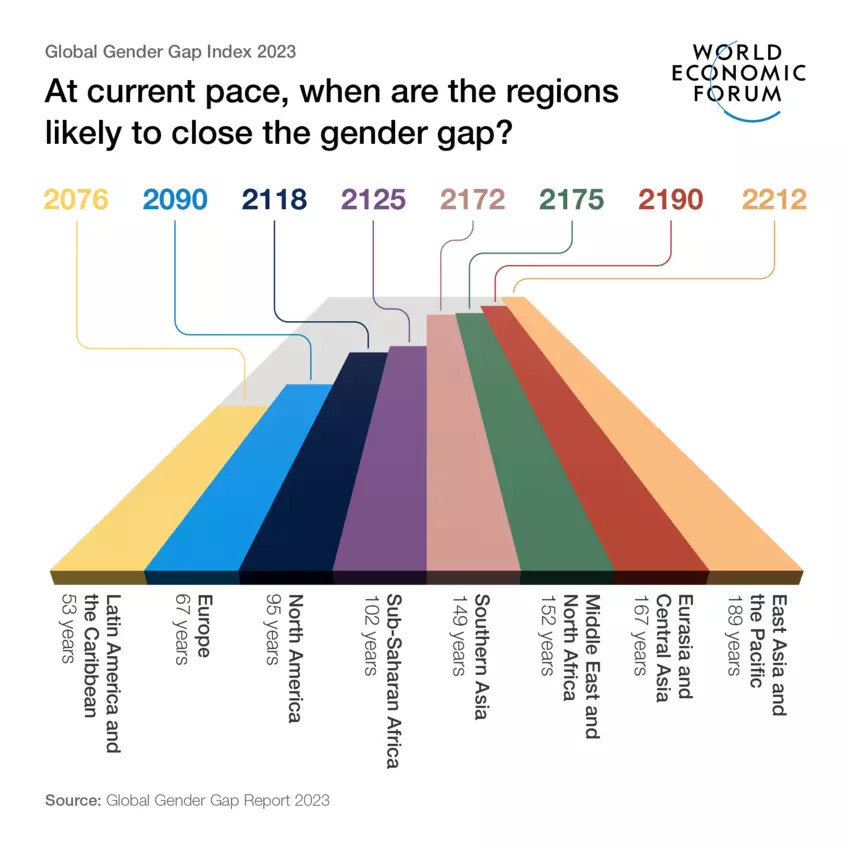 Gender Equality in Economic Participation and Opportunity
The state of gender parity in the labour market remains a major challenge according to the Global Gender Gap Index. Not only has women's participation in the labour market globally slipped in recent years, but other markers of economic opportunity have been showing substantive disparities between women and men. While women have (re-)entered the labour force at higher rates than men globally, leading to a small recovery in gender parity in the labour-force participation rate since the 2022 edition, gaps remain wide overall and are apparent in several specific dimensions.
Here is how the issue of gender equality is felt and experienced by the team here at Gate-away.com both at work and outside work. Watch the video.
Le Marche region of Italy, which is Gate-away.com HQ, has planned to sign a Europe-wide protocol that will start with a study about women in the workplace and how pregnancy and childcare affect it.
The research will be assisted by researchers from Swedish, Norwegian, Finnish and Austrian universities. Italian lawyers and research centres will also be involved.
Annalisa Angellotti, co-founder of Gate-away.com and corporate CHO, will participate as a representative of the real estate world to talk about the role of women in Italy in this sector.
"The comparison with northern Europe is fundamental," says Annalisa Angellotti. "In those countries, leave after the birth of children is granted to both women and men until the age of three. Here in Italy, the culture of caring still sees the woman almost exclusively as the protagonist. And also from the company point of view, the Italian state currently does not guarantee anything: the companies are burdened by the imbalance that is created in the case of maternity replacement. At Gate-away.com we are open to ideas and any inspiration for improvement."