Also from the real estate point of view, Italy in 2021 is definitely a record. Requests from foreigners wishing to invest in the Belpaese have grown by 107.38% compared to 2020.
There is a desire for Italy, for Tuscan villages, Lombard lakes, Piedmontese vineyards, the coasts and hinterlands of Liguria and Apulia.
"For more than one reason, from music to sport, 2021 was the year in which Italy was talked about the most," comments Simone Rossi, CEO of Gate-away.com. "Since our portal was created in 2008, we have had strong evidence of how promotion abroad increases foreigners' interest in our country. In this case it was on a national level, but it is effective also by area. The response was there again this time and the numbers are stimulating".
What are the countries from which foreigners' requests come the most?
26.19% of requests come from the United States, 13.92% from Germany, 9.29% from the United Kingdom, 6.26% from the Netherlands, and 5.5% from foreigners that were in Italy at the time of the request.
The regions with the most applications are Tuscany at 16.96% (percentage of total applications); Lombardy 11.07%; Liguria 9.11%; Piedmont 8.55% and Apulia 8.19%. They are followed, in order, by Abruzzo, Sicily, Umbria, Lazio, Calabria, Marche, Sardinia, Veneto, Molise, Campania, Emilia Romagna, Trentino Alto Adige, Friuli-Venezia Giulia, Valle d'Aosta and Basilicata.
Discover how to invest in this fast-growing market and give more visibility to your properties or your house for sale.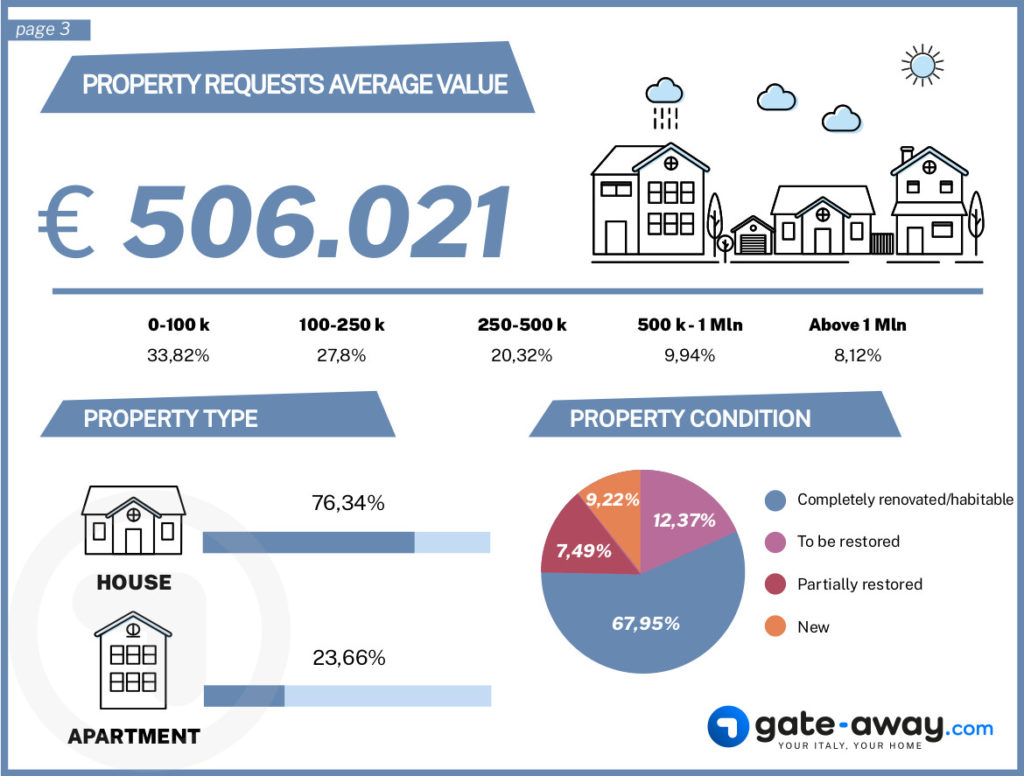 In addition, the top ten favourite areas are: Lake Como, Salento, Lunigiana, Itria valley, Monferrat, Lake Garda, Chianti, Lake Trasimeno, Lake Maggiore, Lake Iseo.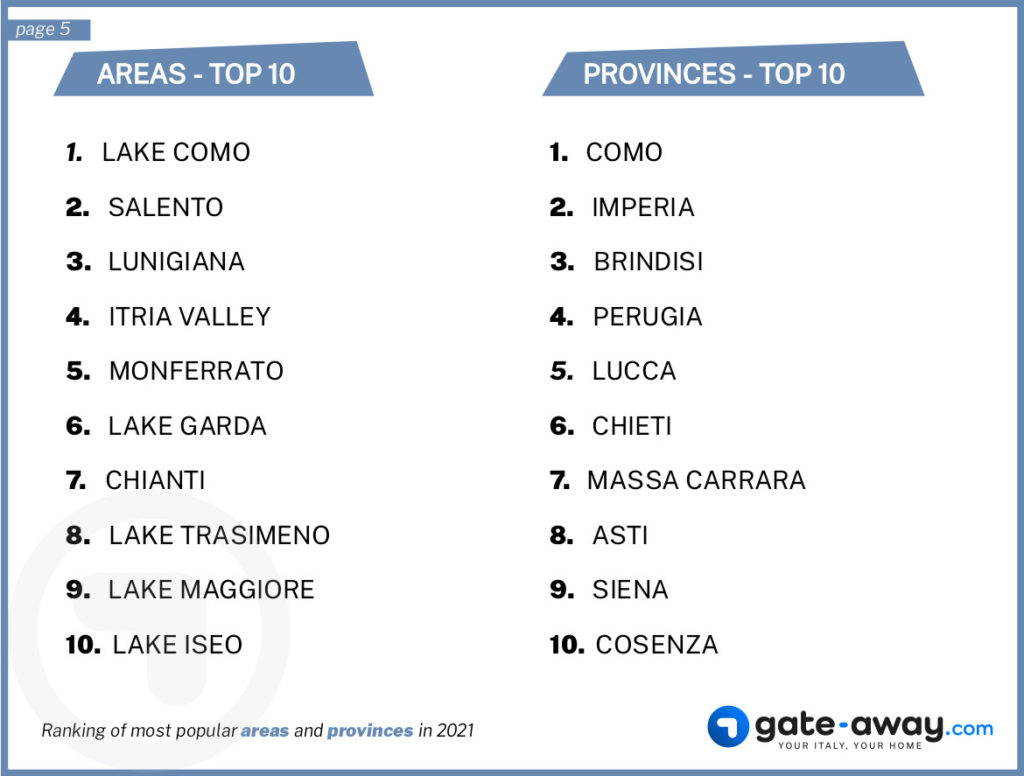 It is worth noting that the majority of foreigners' requests (76.34%) are for single houses, 67.95% of which have been restored/habitable, 55.98% of which have a surface area of more than 120 square metres; 60.21% have a garden; 32.94% have land and 21.39% have a swimming pool.
The average value of the property is 506,021 euro (+1.22 compared to 2020).